Aviation
Aerodrome Layout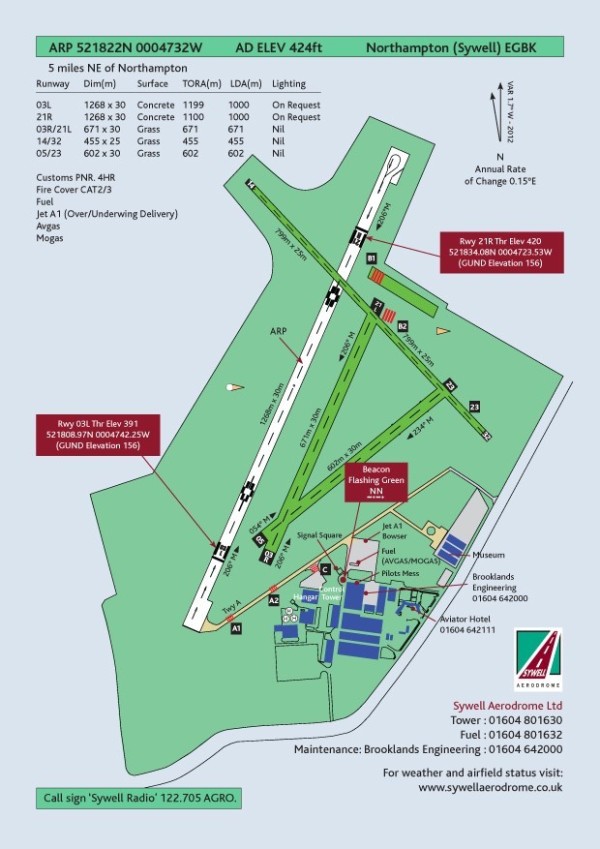 Runway
Dimensions (m)
Surface
TORA (m)
LDA(m)
Threshold elevation
Lighting
 03L
1258 x 30
Concrete
1199
1000
391
On request
 
 21R
1258 x 30
Concrete
1100
1000
420
On request
 
03R/21L 
671 x 30
Grass
671
671
389/410
Nil
 
 14/32
799 x 25
Grass
799
799
416/384
Nil 
 
 05/23
602 x 30
Grass
602
602
391/390
Nil
 
Callsign:
Sywell Radio on 122.705 (AGCS)
Operational hours:

Strictly PPR online only. 0900-1800 (local).

Mondays - Aerodrome closed to all visiting aircraft, no AGCS, RFFS or fuel available

Tuesdays to Fridays - Aerodrome licensed, AGCS, RFFS CAT 2 and fuel available

Weekends - Aerodrome licensed, AGCS, RFFS CAT 1 and fuel available

Landing fee:
See

 

charges page
Customs:
Yes, prior notice required
Fuel:
AVGAS 100LL, MOGAS, Jet A1. Only AVGAS and MOGAS are self service. JETA1 is available within aerodrome hours only with a bowser also available. Self-service pumps accept Visa, Mastercard, Switch and Delta. 
Fire cover:
Category 1 (Category 2 on request)
Remarks:

Operated by Sywell Aviation Ltd, Sywell, Northampton, NN6 0BT. All visiting helicopters to Sloane Helicopters are strictly PPR online.

Fixed wing circuits at 1000 ft QFE; left-hand on runways 03, 14 and 23, right-hand on runways 05, 21 and 32.

Helicopter circuits at 800 ft QFE in opposite direction to fixed wing. Heli's must arrive/depart via notified routes only.

Runways 03L/21R and 03R/21L referred to as 03/21 Hard or Grass as appropriate.

See PPR page for additional procedures document including Helicopter routes chart.

Warnings:

All runways have non-standard white centre-line markings. Aerobatics take place throughout the year, 3 nm radius of aerodrome perimeter, up to 5000 ft AGL. A small arms range (.22 rifle and clay pigeon shooting) is located approx 1000 m NNW of the aerodrome perimeter between the approaches to runways 15 and 21.

See status page for current information.

Facilities:
Restaurant, bar and

 

hotel

 

(59 bedrooms) with aircraft parking adjacent. Full

 

conference facilities

 

available.